Proofreading and editing services for law (Legal) documents
The proofreading and editing services offered by EssaysService.com are available to professors, law students, qualified lawyers, and to professionals who author and publish various types of legal documents. Check out our website to find out more about submitting your written work to be proofread and edited by our professionals. Careers in the legal profession are noted for being extremely busy and these careers often involve large volumes of professional-type writing. For example, legal documents can include briefs, contracts, letters, memos, pleadings, and more. These are produced on a daily basis by members of the legal profession, most notably by lawyers. However, there are many others in the legal field who also produce academic articles, textbooks, guidance notes, practice notes, research papers, presentations, instruction materials, checklists, updates, webinars and a vast range of other types of documents that are a daily requirement of their profession.
It is important that all these documents are written in a clear and precise manner, often following a considerable amount of research, analysis, and discussion. These documents are also the type that needs to be carefully proofread and edited. Often it is not just the professional reputation of the author of the documents or the firm he or she is employed by that is at stake, but often the actual life, job, earning potential, and the mindset of a company's clients. Nevertheless, proper editing and proofreading usually takes up a lot of time, which is something that those in the legal profession are often short of. Luckily, the expert proofreaders and editors employed by EssaysService.com do have sufficient time to devote to your written work and to making sure it is flawless. Our proofreaders and editors are all English language experts and they have specialist knowledge in all types of legal texts. Consequently, they are able to give you complete confidence in any documents you have created.
Those who are undergoing the process of acquiring and honing their skills in the field of legal writing – usually junior lawyers and those still at law school – should find our proofreading and editing services especially useful. The admissions process for most law schools is extremely competitive. In fact, the competition is often so fierce that an exceptional educational record is not sufficient, especially when a lot of candidates can demonstrate similar records. In these circumstances, a well-crafted personal essay or statement can distinguish you from other candidates. Such a statement can also be used to show you are able to absorb and synthesize a lot of complicated information into compelling and persuasive arguments, a skill that should surely prove useful – and indeed necessary – in a future legal career. Then, when you have been accept into law school, you will be required to produce essays and other assignments. At some point, you may even have to produce a thesis or dissertation, both projects that can challenge your writing abilities in a new and more demanding way. Once you qualify as a lawyer and perhaps secure your first junior position, it is important your writing skills reflect positively on you and the more senior personnel in your place of employment. Additionally, you will need to be able to provide the best service possible to the clients you serve. The legally trained proofreaders and editors at EssaysService.com will ensure you always produce the very best quality of work because they will check and correct any errors in your written work e.g. errors in spelling, punctuation and grammar. This will ensure you communicate clearly through your writing and also in a precise and sophisticated manner.
A problem that is often evident in legal-type documents is the liberal use of legal terminology. It is, of course, usually necessary to communicate large quantities of highly complex and intricate detail in the most precise and clear way possible. However, those in the legal profession do not often succeed in this respect. Terminology that is archaic or extremely specialized – as well as cumbersome and convoluted syntax – can hinder clear communication and confuse the reader. Clients should not feel irritated by contracts and judges should not become exhausted by overly complex briefs. It is important that documents concerning advocacy are easy to understand if they are to be sufficiently persuasive. The content and language in each and every legal document should address its targeted audience in the most appropriate manner rather than speak condescendingly to readers or completely lose them. One incorrect word or a punctuation mark in the wrong place can cause a text not to say what the writer intended. Not only can this be frustrating for the reader, but it can create other legal problems later on. Our proofreaders and editors understand legal terminology and they know what someone in the profession wants to say. They can tell when your writing lacks clarity or is ambiguous, and they will recommend alternative wording to help you communicate arguments and evidence in the most effective and efficient manner possible.
See also: "Help with law assignments and coursework: UK and worldwide"
Proofreading legal documents is not a problem anymore!
A lot of the clients who come to EssaysService.com are senior research experts, professors, and members of the legal profession who are not native English speakers. However, many of these need or want to present and publish their written work in English. Our proofreaders and editors are capable of assisting these authors – essentially, they help them communicate in as clear and as precise a way as is possible and with as much sophistication in their written work as if they were writing or speaking in their own language. The expert services that EssaysService.com offers are also beneficial to native English speakers, especially those who need to have another pair of eyes cast over their writing to ensure it is consistent in terms of language and formatting, to ensure it is error-free, and to give it a final polishing so that it is of the highest possible standard.
If or when you submit any documents to EssaysService.com for proofreading and editing, you may be assured that your writing will receive the meticulous attention of one of our highly trained specialists. Working with us, you may also be sure of a service that is entirely confidential. Whatever documents you hand to us, be assured they will be treated confidentially and respectfully.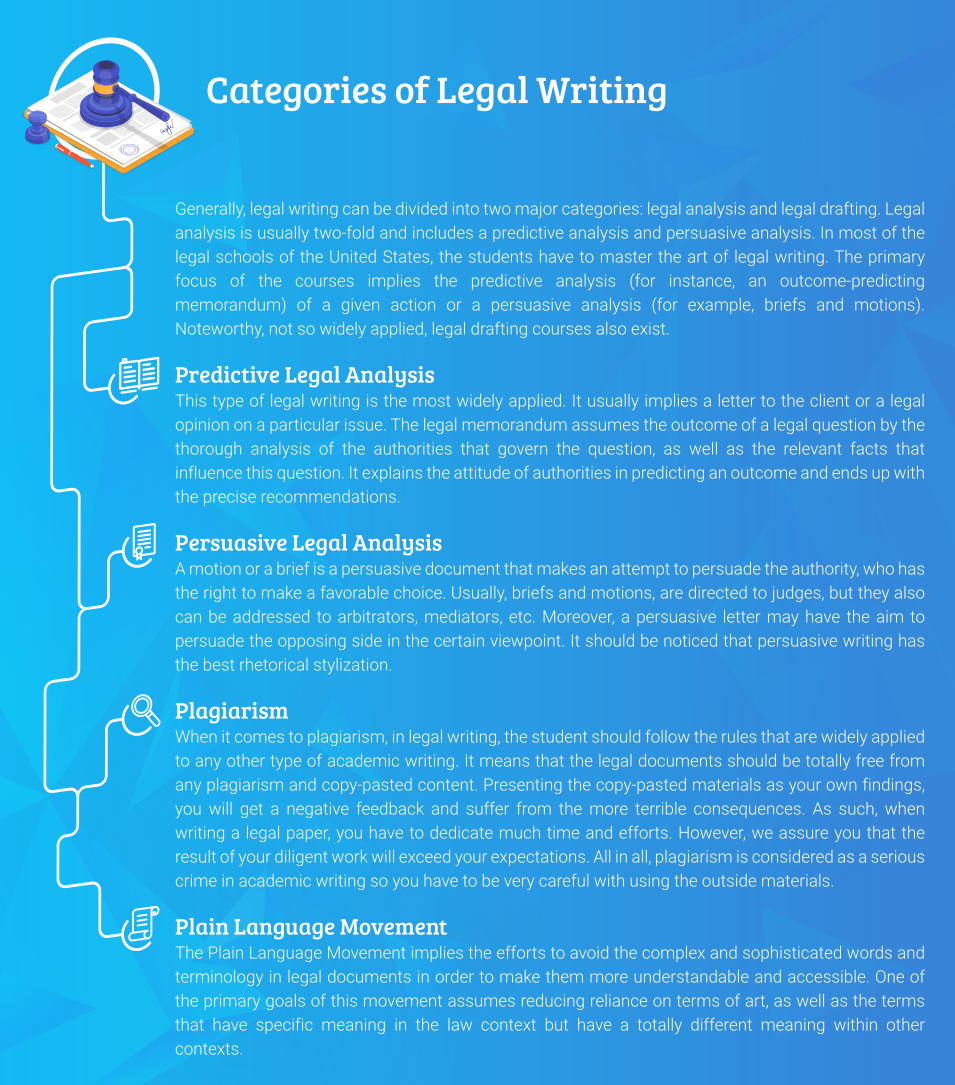 Proofreading legal documents
Legal writing is the type of academic writing that is widely used by judges, lawyers, legislators, and many other people working in the legal field. In practice, legal writing is used to advocate the client for or to express the resolution of his/her legal matter. In many colleges and universities, the professors assign the law papers to the students since they want to evaluate their ability to think logically, as well as to check their writing, research, formatting, and organization skills.
If you have done this task, but not sure about its quality, feel free to purchase proofreading legal documents option at EssaysService.com. Our certified writers will polish your essay until perfection. In this article, we are going to provide you with the effective legal writing tips for law students. Follow them precisely and achieve academic success!
Precedent
In the legal area, precedent means breaking the things or rules that were established previously. For instance, every significant law is written after the particular precedent, the case that changed the previous state of things.
Many lawyers use and re-use the common forms. Thus, if you need to write a legal paper, try to search for a good template on the web. We assure you that it will greatly facilitate the process of writing.
Vocabulary
As we as in any other specific field, in the law area, there is a specific vocabulary that is widely applied by the people working in it. The technical vocabulary used by lawyers and judges can be categorized into four sections:
The first section includes the specialized words and word phrases that are used only in the law field. For instance, fee simple, tort, novation, etc.
The second section includes the words that can be used in the daily life but have a different meaning in the legal area. For instance, consideration (which refers to as the support for a promise), action (a lawsuit), a party (a principal in a lawsuit), or execute (which means to sign to effect).
The third group of words includes the archaic words. These words and phrases were actively used many centuries ago but at the present-day moment, they are no more applicable in daily life, though they are still used in the legal area. These words are as follows: whereby, herewith, hereby, hereto, wherefore, herein, etc.
The last section includes the words taken from other languages. In English legal vocabulary, many words have the French roots (voir dire, laches, estoppel). Also, some words have the Latin roots (prima facie, certiorari, habeas corpus, sub judice, mens rea).
Formality
When writing your legal paper, you have to pay attention that your language should be formal. This formality can take various forms including the long sentences and sentence constructions, as well as hyper-formal or archaic vocabulary. Besides, the writer should strictly focus on content to the proper exclusion of the readers` needs. All legal documents are serious, given the circumstances in which they are used; therefore, the writer should strictly follow the formality. However, it should be noted that not all formality in the law area can be considered as justified. As such, formality is quite undesirable when it produces opacity and imprecision. Besides, the formality is less desirable when it hinders reader comprehension. In other words, formality can be avoided when the legal content should be conveyed to the people, not dealing with the legal area. Writing such a paper, a student should always assess the needs of his/her target audience. For instance, if the paper needs to appellate to the high court, formality is inevitable. However, a letter to the supervisor can be less formal. Though, being an official document, it cannot be colloquial. Finally, an e-mail to a friend or good colleague does not require formality at all.
When it comes to the transaction documents, the rules are similar. It means that a 100-page agreement between two immense enterprises, in which both organizations are represented by counsel, should be highly formal. The written agreements between the smaller companies are also formal, but they require less complexity. Finally, the proxy statements encouraging the people to attend a particular meeting can be written in an informal manner.
A lot of US legal law schools teach legal writing encouraging the students to acknowledge the technical complexity appropriate to legal writing. As such, the students need to understand that legal writing requires simplicity, as well as directness and clarity.