Interview Reflection Paper: Tips and Guidelines on Proper Writing
It may come as a surprise to you, but often one's ability to share thoughts and impressions from a book or movie and being able to organize the contemplation logically can have a positive impact on essay writing skills. Generally, when it comes to academic writing, it is essential to be logical and consistent. If this idea seems odd to you, read on, and we will explain what we mean further in this article. If you need to submit an interview reflection paper, be sure that it would be a good idea to read this article. You will be convinced that there is nothing hard and challenging about this assignment type. In short, it looks as if you have had a conversation with your friend, groupmate, or family member, and then you narrate your conversation and share your impressions from the dialogue with somebody else. In some cases, this assignment is even similar to a movie review or a book review – where you share your impressions of the plot. If you need a professional and quick solution to your writing problem, then do not hesitate and contact EssaysService.com for help.
What Is an Interview Reflection Paper?
Reflection writing is a type of academic writing that requires one to synthesize information in a logical and consistent form while also sharing personal opinions and impressions. Reflection essays can be written on artwork, literary work or a movie whatsoever. When it comes to the essence of reflection writing, this paper focuses on one's opinions and thoughts concerning the given topic, book, movie, event, behavior, case, etc.
Reflective essays may, at first sight, be easy to handle, but in fact, they may be rather hard to write. When it comes to interviewing reflection writing, it may be decisive and serious for many students as it can impact their chances to be accepted to a college, university, internship or some educational program. Besides, preparing for your own interview may determine your strengths and weaknesses. When you are writing a journal based on the interview, you may more easily identify ways of future improvement and objectively look at how you can benefit in the future.
See also: "How to write an interview paper"
Write an Interview Reflection Paper in 7 Steps
Buy a notebook for taking notes. Be sure to provide such details as the date and place of the interview. Jot down all details that you find essential for your interview reflection paper. Provide narration by using first-person pronouns. Include as many details as you can – pick not only the most important information but also how you met with the interviewer, how thay greeted you, etc.
Record the feelings you had throughout the interview. How did your emotions change from the beginning till the end of the interviewing process? Were you nervous, anxious, or at ease? Do you consider the interview to be

mainly

a pleasant experience or a more stressful one? Do you consider now that you were actively involved in the interview, or were you distracted by something?
Jot down your favorite parts of the interview. In the interview reflection paper, focus on the topics or aspects that you find most favorable. Were you confident when it comes to your responses? Did you succeed in establishing a rapport with the interviewer?
Take notes concerning what areas of improvement you have noticed. What lessons have you

drawn

from this interview? How will you improve for your next interviews? Is it clear now what you should prepare better or what questions you need to focus on more?
Provide a discussion of how you might have otherwise responded to some questions. Are there any areas that you would like to improve? What do you think about such questions as, "

Where

do you see yourself in 5/10/15 years from now?" and similar ones.
Mention in your reflection paper whether it was hard for you and whether you managed on

overall

to maintain good eye contact with the interviewer. Analyze your speech a bit: did you sound clear, logical and loud enough?
Sum up your experience and state whether you have benefited from the interview on the whole. Or maybe you regret taking part in it? Come up with a list of steps that will help you improve in your future interviews.
Try our top 10 writers
Benefit from the incredible opportunity at a very reasonable price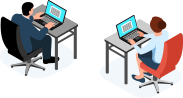 Structure of Interview Reflection Paper
If you develop a paper based on your interview, keep in mind that the structure may differ a bit from the ordinary essay or other academic writing assignments. As a rule, the basis of an interview reflection essay is to summarize the parts of the interview you went through and then analyze the interviewing process. The basic tips on how to structure the paper are:
Pick the topic. Investigate background information on the topic, mention who your interviewer was, and carry out the needed preliminary research.
Devote some time to reflect on the frequently asked questions. Compose an outline in order to maintain focus on the interviewing process.
Provide the main information regarding the interviewing process.
Organize the data in a logical and consistent way. Be coherent when it comes to the development of ideas. Try to start your reflection on the interview experience with positive moments. Go further through the process by mentioning negative experiences or aspects worth improvement.
Decide on the logical development of ideas in the presentation. On average, the paper should consist of 5 paragraphs as a regular essay. Start with developing an introductory paragraph, which is interesting and catchy enough for the reader, then develop the main body, and sum up the experience in conclusion.
See also: "Write my letter for me"
Interview Reflection Paper Example from Professionals
Hopefully, this article has helped you better understand the interview reflection writing principles. With the help of our experts, you will rest assured that there is little to worry about. Our company's experts can summarize and analyze the interviewing experience for you – what is needed from you is to provide some notes.
All in all, writing a reflection paper is not hard since you just narrate your personal experience and shed light on your strengths and weaknesses. With the help of the interview reflection paper, you will demonstrate what an outstanding personality you have. If you have no time or energy to deal with the assignment on your own, our company's experts can provide you with an excellent paper within the shortest terms.