Custom essay term paper
What is an essay term paper? A common procedure of writing an essay term paper involves a few significant steps. A term paper definition says that it is an analytical or critical report on a specific subject or topic that was covered in the particular course. It usually involves two major aspects: the ability to work with sources and own understanding of the topic. Keep in mind that both these aspects are equally important. The essential purpose of this assignment is to summarize the material learned throughout the entire course and showcase the knowledge of the topic. As such, it makes an essay term paper a perfect instrument for evaluating the student`s proficiency. The complexity of the task serves as the main reason for so many points for this assignment.
Usually, the students confuse a term paper with a research paper. Although their concepts are similar in their essence, a research paper requires a more thorough investigation of the literature whereas the term paper is the smart combination of the literature and own observations.
To understand how to write a term paper, you need to read the professor` prompt carefully and ensure you understand every single point of the requirements. Keep in mind that the instructor wants to check your writing, research, critical thinking, analytical, and organizational skills, so you have to dedicate enough attention to each of these points. As such, when working on such a paper, you have to collect the relevant data, analyze it, and solve an important problem. These skills are very useful in any workplace, so you can consider the successful submission of your term paper as a great investment in your career.
Read about: "How to write general research papers"
Term paper writing: Common guidelines
If you have to do a term paper, do not procrastinate! Try to start writing this paper as soon as you receive the task so that you could have enough time for revisions. First and foremost, you need to write a rough draft following the procedure below. When the rough draft is written, read it several times polishing your thoughts and fixing all typos and grammatical mistakes. Improve your paper until you are totally satisfied with it.
Before writing a rough draft, you have to create the outline, in which you will mention all the points that will be discussed in the paper. If you want, you may follow the structure below: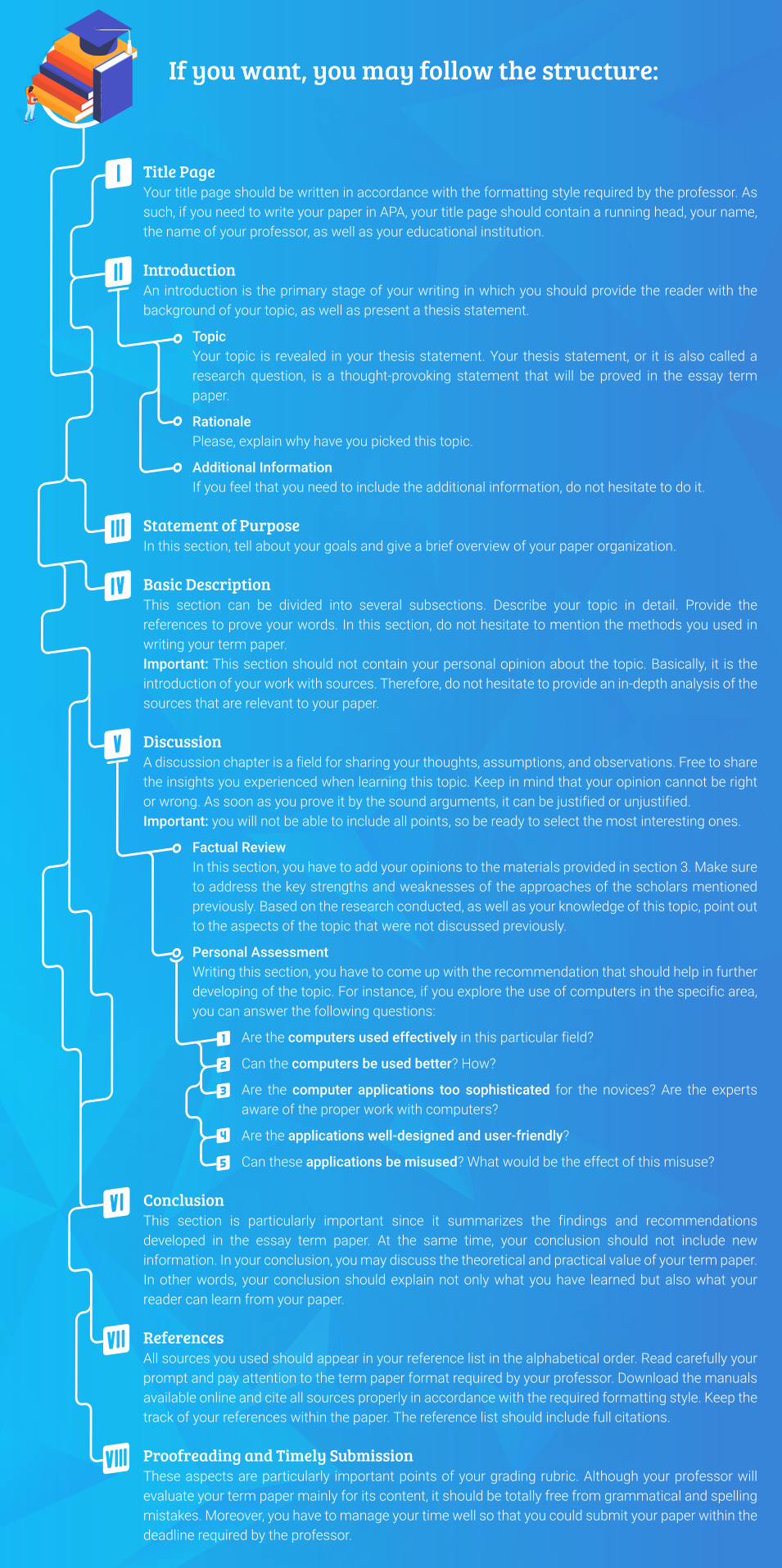 Additional hints
If you have some questions or concerns, feel free to ask your professor for assistance. Alternatively, you can try to search for the pre-written term papers on the web. When writing your term papers, you may find an interesting term paper example for college available online. Use this template for your writing inspiration and you will be able to create unique and original papers from scratch!
When you need custom essays and term papers, there is only one place to go – Essaysservice.com! We've heard all of the stories from disgruntled students who have used supposedly professional writing services and received, for their money, nothing but junk. They paid good money to cheap and fly-by-night websites and got, in return, an essay or term paper that was so bad it could not be turned in.
In most instances, the writing was horrible and the content disorganized, and it was obvious that some money grabber was simply putting together parts of already written works and selling them as originals! With truly ethical services, this would never happen, and that is why you need to order your custom essays and term papers from an agency like Essaysservice.com.
Check also our article: "Writing a reaction paper in APA format"
Free term paper sample to read
EssaysService.com does not "Short Change" any customer
When you order a customized academic work, be it an essay, term paper, review, report, project, or any other piece of writing, we follow the same process for completion every time, without exception.
Every order receives special attention. We analyze exactly what the student is asking for, so that we can put the right person or people on it. For basic works, such as persuasive essay or a term paper, we generally assign a single writer who has the qualifications for that project. For substantive graduate works, however, we generally assign a team of researchers, writers, and statisticians, each responsible for completing the specific tasks involved, before the entire work is synthesized into an organized whole.
Custom essays and term papers are just that – customized for each individual student. This means, as well, that all custom essays and term papers ordered will not be written before they are ordered, and that we perform final reviews and plagiarism checks before anything is delivered to a customer. Plagiarism is simply not tolerated, and our writers understand this. Most of them have been with us for years, moreover, and have proven themselves over and over again. We correctly boast that we have the largest and most qualified staff or writers and researchers who hail from every academic field. They all have graduate degrees in their areas and have a passion for writing.
If you are interested in sample works, rather than custom essays and term papers, we also maintain a large database of virtually every type of writing on any topic. Many students order samples from us, so that they have models to follow as they produce their own writing assignments. Feel free to search through our database and purchase any samples you may find relevant to your assignment. Be reminded, however, that, should you attempt to submit any of these as your own, a simple plagiarism scan by your instructor will result in your being discovered.
We are always mindful of a client's deadline
No one need fear that an ordered work will be late, and, if necessary, we will increase the team members in order to meet any deadline. Your writer(s) will keep you apprised of progress all along the way. Contact us 24 hours a day, and let's discuss your need. Essaysservice.com never closes!